Managing Livestock Feed Costs
October 31, 2022
---
Four nutrition tips to share with clients

Maintaining livestock at a healthy weight is key not only to the health of the animals but the success of your clients' businesses. However, with winter approaching and commodity prices continuing to rise, maintaining this balance without compromising profits may become increasingly challenging. Here are some tips on guiding clients toward efficient feeding practices for the colder months ahead.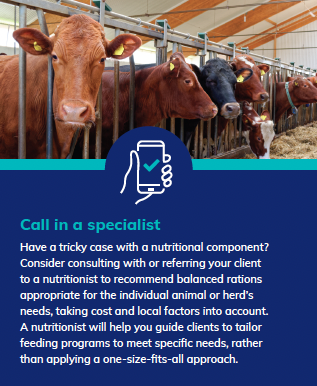 Rely on high-quality forage
As feed prices rise, it's important that clients resist the urge to feed a higher volume of cheaper feed and instead invest in higher-quality forage. By choosing a higher quality forage, clients can provide the same number of calories while still maintaining digestive health and motility. Hay pellets and cubes can also be used to augment traditional hay to reach minimum forage intake requirements.
Cattle also require balanced, quality forage, as low-quality forages such as straw can lead to impaction, weight loss, and unthriftiness. If clients struggle with accessing good quality forage, supplemental fiber sources such as beet pulp and soybean hulls can be recommended to "top-up" the caloric density of rations.

Don't let feed go to waste
Ensuring that feed isn't wasted on site or during transportation is a key factor in driving efficiency for your client and the health of their animals. Feed shrink—the amount of feed that is delivered to a farm but never consumed—can cut into profits. While some waste is expected, in extreme cases, it can account for 20% of the overall feed purchases1. If a client is struggling to maintain their animals at a healthy weight due to feed costs, ask to view their feed storage setup, or refer them to a local Extension agent for guidance.
By helping to minimize wastage, you're offering clients the simplest method of improving feed efficiency and saving money.

Leverage available data and analytics to make informed decisions
Asking clients to keep track of their operation is important as data can support clients in monitoring, evaluating, and forecasting feed usage and requirements. Recommend that clients use a scale to weigh feed ingredients and forage rations, which will enable them to identify losses in their operation1 and monitor their animals' feed intake on a by-weight basis. Keeping records of how much feed is left prior to re-feeding can help to reduce wastage and understand what should be fed in the following days.

Maintain feed efficiency with regular check-ups
Ensure your equine clients are scheduling regular dental check-ups and maintenance. This simple but effective routine will help them to maintain feed efficiency. Horses with neglected teeth may not be able to adequately chew their feed due to ulcerations or uneven wear. Cattle can also experience issues resulting from poor dental care, such as bacterial infections, that can hamper their ability to chew feed properly.
To assist you and your clients with setting up regular check-ups, you can use Rapport™, the client communication solution from Covetrus®. Its online scheduling feature gives you the ability to schedule appointments and clients can select the appointment time that best suits their schedule. Also, Rapport allows you to set up recurring check-ins and automate appointment reminders for your clients.

Talk to your account manager today for guidance on how Covetrus products, technologies, and services can support you and your practice in helping meet the needs of clients, their businesses, and their animals.

1Amy E. Radunz, "Feeding Strategies to Improve Feed Efficiency for Beef and Holstein Feeders", UW Extension, 2010 UW Extension Cattle Feeder Clinic Proceedings, https://fyi.extension.wisc.edu/wbic/files/2015/03/Feeding-Strategies-to-Improve-Feed-Efficiency.pdf. Accessed online October 6, 2022.
Need Regulatory Assistance
If you need help with regulatory or licensing issues, we're happy to help. We have a wide variety of resources to help you when issues arise.
Careers
Are you looking for a place to let your talents shine? At Covetrus, we help our practitioner customers better serve their patients and take pride in providing the best customer experience possible. Search our open positions to see our available opportunities.
Newsletter
Stay current with what's going on with Covetrus, subscribe to receive our newsletter and email communications. Subscribers will receive the latest information in practice management, sales and marketing, animal health, and more.