EPM: Deciphering the 3 causes
September 30, 2021
---
By Nicola Pusterla, DVM, PhD, DACVIM
Equine protozoal myeloencephalitis (EPM) is one of the most common infectious neurologic diseases affecting horses in North America.1 A progressive disease, EPM can impact any horse and cause irreversible damage to the brain or spinal cord if left unchecked.
Unlike most infectious diseases, EPM is not black and white. The 'gray' area around this disease begins with the most basic question: What causes EPM in the horse?
A TRIPLE THREAT
EPM can be caused by Sarcocystis neurona, Neospora hughesi, and Toxoplasma gondii, although least is known about the last of those. Let's take a closer look at each causative parasite.
Sarcocystis neurona
The most common cause, S. neurona encompasses almost every clinical presentation and makes up roughly 85 percent to 95 percent of cases. Strangely, a high number of horses have S. neurona exposure evident in their serum sample but show no neurologic clinical signs. We continue to study this phenomenon to help explain why some exposed horses cannot mount antibodies and control the organism. Those horses that do succumb to clinical illness seem to be either immunocompromised or unable to prevent the protozoal organisms from invading the central nervous system.
Neospora hughesi
Over one-third of healthy horses tested for N. hughesi in the U.S. are seropositive.2 Once in the horse, the organism stays forever, making the horse an intermediate host. N. hughesi is effectively maintained in the equine population through vertical transmission – from dam to offspring. During times of immunosuppression, such as gestation, N. hughesi is reactivated and, in some instances, will cross the utero-placental unit and infect the fetus. This can lead to various outcomes, such as abortion or the birth of an immunocompetent, non-affected animal that is latently infected. Some horses with neuronal neosporosis experience co-morbidity with metabolic, endocrine, and other chronic infectious diseases. It is thought that these co-morbidities suppress the immune system enough to allow for an effective recrudescence of the dormant N. hughesi with subsequent possible neuroinvasion.
Toxoplasma gondii
A well-recognized protozoal organism in humans and other mammals, T. gondii can play a role in some EPM cases – we just don't know exactly how. Two studies document a possible association between T. gondii and EPM, one of which was done by our team at the University of California, Davis. This study found a higher likelihood of elevated serum titers for T. gondii in suspected EPM cases.2 There is more follow up to be done.
TAKE-HOME MESSAGE
Making sense of the 'gray' areas around EPM continues to be the subject of study, but our learnings have taken leaps and bounds since the 1970s when the disease was recognized. Much of that knowledge has centered around the causative organisms and how they behave in the horse. One key takeaway is that to reach a proper EPM diagnosis, especially in cases presenting with classic EPM signs, practitioners should investigate other pathogens if immunodiagnostics on serum and CSF come back negative for S. neurona.
Characteristics of EPM Etiologic Agents

Sarcocystis neurona

Neospora hughesi

Toxoplasma gondii

Life cycle

Two-host life cycle

Definitive host: opossum

Intermediate hosts: skunks, raccoons, armadillos, cats, passerine birds, sea otters, and horses

Poorly characterized

Definitive host: unknown but likely a wild or domestic canid

Intermediate hosts: horses

Definitive host: cat

Intermediate hosts: birds and mammals

Role of horse

Dead-end and intermediate host3

Intermediate host

Intermediate host

Seroprevalence (U.S.)

78%2

34%2

6.5%4

Risk factors

Age (generally young performance horses)

Stress

Co-morbidity

Exercise

Environment (wooded areas; previous history of EPM on premises)

Immune compromised

Older horses

Pregnant animals

Co-morbidity

Cats on premises

Immune compromised

Clinical signs
Asymmetrical weakness, ataxia, dysmetria, and focal muscle atrophy

(May vary depending on part of central nervous system parasitized)
Asymmetrical weakness, ataxia, dysmetria, and focal muscle atrophy plus signs of co-morbidity
Synonymous with S. neurona in documented EPM cases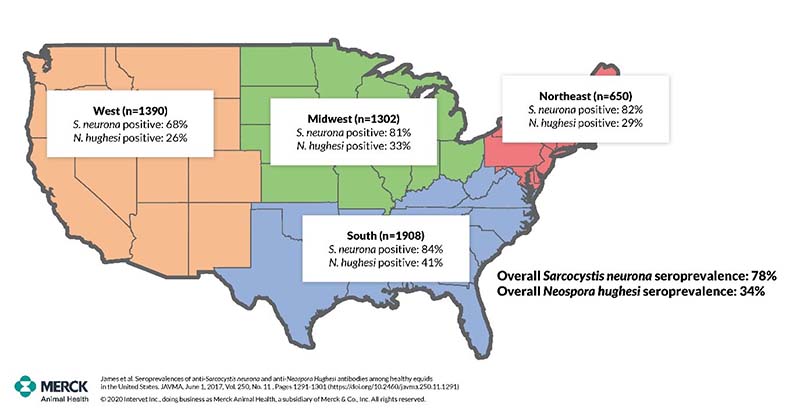 1Reed SM, et al. Equine Protozoal Myeloencephalitis: An Updated Consensus Statement with a Focus on Parasite Biology, Diagnosis, Treatment and Prevention. J Vet Intern Med 2016;30:491–502.
2James KE, Smith WA, Packham AE, Conrad PA, Pusterla N. Toxoplasma gondii seroprevalence and association with equine protozoal myeloencephalitis: A case-controlled study of California horses. Vet J. 2017 Jun;224:38-43. doi: 10.1016/j.tvjl.2017.05.008
3T. Mullaney, et al. Evidence to support horses as natural intermediate hosts for Sarcocystis neurona. Veterinary Parasitology; 133 (2005) 27-36.
4
Xi et al. Seroprevalence of Toxoplasma gondii in horses: A global systematic review and meta-analysis. Acta Tropica, Volume 201, January 2020, 105222 ( https://doi.org/10.1016/j.actatropica.2019.105222)

Copyright © 2021 Intervet Inc., d/b/a Merck Animal Health, a subsidiary of Merck & Co., Inc.


Need Regulatory Assistance
If you need help with regulatory or licensing issues, we're happy to help. We have a wide variety of resources to help you when issues arise.
Careers
Are you looking for a place to let your talents shine? At Covetrus, we help our practitioner customers better serve their patients and take pride in providing the best customer experience possible. Search our open positions to see our available opportunities.
Newsletter
Stay current with what's going on with Covetrus, subscribe to receive our newsletter and email communications. Subscribers will receive the latest information in practice management, sales and marketing, animal health, and more.