Dispelling common myths of private brand drug alternatives
August 18, 2021
---
As consumer perceptions around private brand generic drugs change, it's important for veterinary hospitals to offer a variety of options to meet client demands. Although private brand generic drugs are commonplace in veterinary healthcare, there are still some misconceptions about these low-cost alternatives. For some hospitals, the question on whether to carry private brand drug options simply comes down to safety and efficacy: Do private brand drug alternatives provide equal profiles compared to "pioneer" (brand-name) drugs?
The answer is an emphatic "yes"! Let's dispel a few common myths around private brand generic drugs and discover how offering these alternatives may help you and your clients save money on treatment – without sacrificing safety or efficacy.
Myth 1: Brand-name drugs go through more rigorous testing for approval than private brand generic drugs.
Each ingredient must also meet stringent quality standards and the private brand generic drug must demonstrate stability over the shelf life of the product.
Blood-level bioequivalence studies are required by the Food and Drug Administration Center for Veterinary Medicine (FDA-CVM) for ANADA approval; these studies establish that any minor difference in bioavailability between the private brand generic and the brand-name drug is considered clinically insignificant.
Pharmacovigilance (adverse event and quality complaint) monitoring/reporting
Reporting of manufacturing changes
Ongoing stability testing
Submission to FDA of advertising and promotional materials
Blood-level bioequivalence studies compare a test product (private brand generic) with a reference product (brand-name drug) using parameters measuring and encompassing absorption, distribution, and depletion of the drug concentration over time.
To determine bioequivalence between the products, the manufacturer of the private brand generic drug completes blood-level studies comparing its formulation with the brand-name formulation and reports to what extent the active ingredient concentrates in the blood and for how long. The average or mean results for the two products must not be significantly different. Designing, conducting, and analyzing a bioequivalence study can take up to three years to complete.
The requirement for the bioequivalence study may be waived for certain private brand generic products, including parenteral or oral solutions, if certain criteria are met.
Myth 2: A private brand generic drug can have up to 20% less active pharmaceutical ingredient.
To conduct the bioequivalence study, the same dosage is used for both the brand-name and private brand formulations.
The FDA-CVM considers two products bioequivalent if the mean peak concentration and area under the curve are not significantly different when applying a 90 percent confidence interval approach. The acceptable limits are that the private brand product mean must be within 80 percent to 120 percent (untransformed data) or 80 percent to 125 percent (log-transformed data) of the mean of the reference product. This allows for individual animal variation in the live animal study.
This does not mean that the private brand generic drug is allowed to have 20 percent less active ingredient than the brand-name drug. Private brand generic drugs must be formulated to contain the same amount of active ingredient as brand-name products.
Myth #3: Private brand generic drug manufacturing facilities and processes do not have to meet the same standards as those for brand-name drugs.
Both brand-name and private brand generic drugs must be manufactured to the same high quality standards of the FDA. They all must be manufactured in FDA-inspected facilities, must meet current "Good Manufacturing Practices" guidelines and must be shown to be safe and effective.
Myth #4: Private brand generic drug manfacturers do not monitor their drugs for adverse events and quality complaints post-approval like brand-name drug manufacturers do.
The FDA's post-approval requirements for brand-name drugs and private brand generic drugs are identical:
Pharmacovigilance (adverse event and quality complaint) monitoring/reporting
Reporting of manufacturing changes
Ongoing stability testing
Submission to FDA of advertising and promotional materials
Myth #5: Selling private brand generic drugs over brand-name drugs will decrease your clinic revenue.
Historically, many veterinarians have taken a general approach to drug pricing: one markup fits all. So, if you simply double your cost to create the selling price to your clients, then yes, you will decrease your pharmacy profit by selling private brand generics over brand-name drugs. However, if you focus on maintaining your desired gross profit margin and adjust your pricing strategy accordingly, you will increase your pharmacy profit and save your clients money
It will benefit you to base pricing on the gross margin or profit dollars you target for each drug in your pharmacy and set your client pricing based on your target margins. The desired gross margin should drive your markup, not the other way around.
The markup is the ratio between the cost of a good or service and its selling price (client charge). Markup is expressed as a percentage over the cost.


The gross margin is the difference between the selling price and the cost of goods sold, divided by selling price, expressed as a percentage. Gross profit is the difference between revenue and cost of goods sold, expressed in dollars.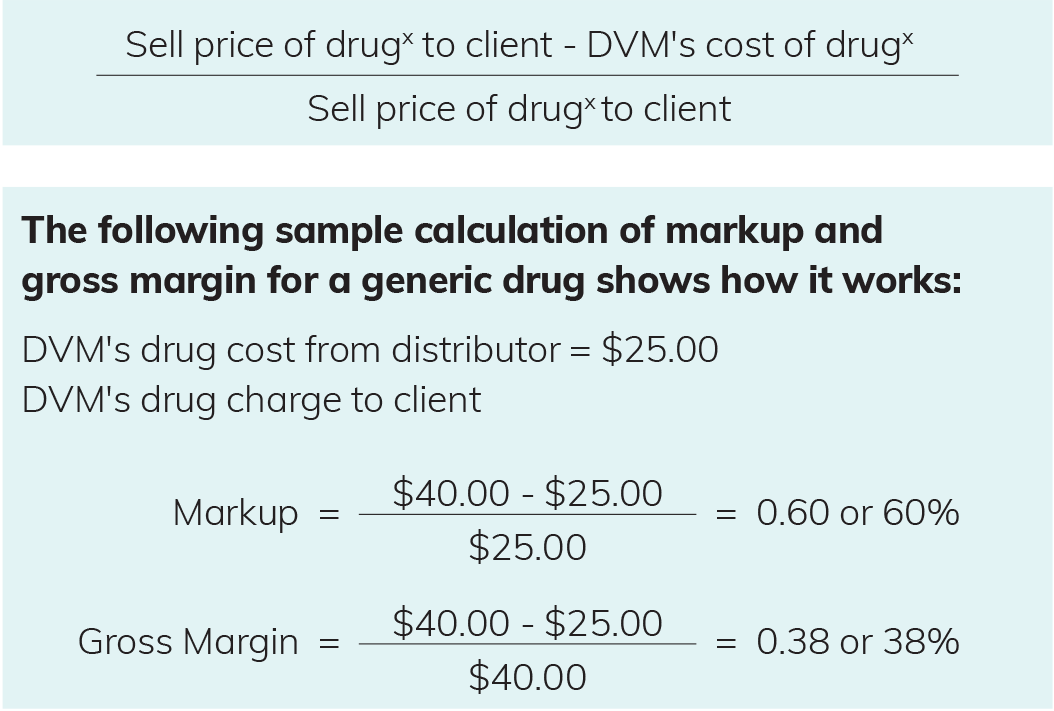 It makes good financial sense to charge clients lower margins on maintenance drugs and higher margins on drugs used for short-term treatments. Clients often shop long-term therapy drugs, such as nonsteroidal anti-inflammatory drugs (NSAIDs), and will quickly search the internet for lower-cost options.
If you only stock brand-name drugs in your pharmacy and do not offer lower-cost alternatives, you risk losing future revenue after the initial prescription runs out. In an age of cost-conscience consumers, clients may feel misled if they learn from another source that a private brand generic drug option existed. After all, many clients purchase human generic drugs as a rule when they are available for their own medications.
Key take home points
Prescribing private brand generic drugs over brand-name 'pioneers' is a great way to meet cost-conscience client demands and boost profitability for your practice. Consider the following points:
Bioequivalent private brand generic drugs include the same active pharmaceutical ingredient — and in the same amount — as brand-name veterinary drugs.
Private brand drugs usually cost much less than brand-name "pioneers". This helps your practice compete (e.g., against online retailers) while offering you more profit potential.
Clients will be thrilled that you are charging them less for medications, whether they are for one-time use or for chronic disease management, and may reward you with their loyalty and repeat business.
About the author
Joe Perkins, Senior Marketing Manager of Covetrus Brand products, has over 13 years of experience in the veterinary industry. Holding a BA in Brand Strategy & Communications from the Scripps School at Ohio University, Joe helps veterinary hospitals maximize savings and profitability through program and product development within the Covetrus Brand portfolio. This article was written in conjunction with Norbrook, one of the world's largest manufacturers of veterinary sterile injectables, and one of the nation's largest manufacturers of companion animal and livestock private label brands.
Need Regulatory Assistance
If you need help with regulatory or licensing issues, we're happy to help. We have a wide variety of resources to help you when issues arise.
Careers
Are you looking for a place to let your talents shine? At Covetrus, we help our practitioner customers better serve their patients and take pride in providing the best customer experience possible. Search our open positions to see our available opportunities.
Newsletter
Stay current with what's going on with Covetrus, subscribe to receive our newsletter and email communications. Subscribers will receive the latest information in practice management, sales and marketing, animal health, and more.